August 18 – 21, 2016
It's a grey, raining off and on kind of afternoon as our train rolls west through the Irish countryside. Across the small train table, Jill is reading and watching the passing scenery. Zephy's reading next to me, while I attempt to write some post cards.
It feels good to travel with friends, good to let the space between us fill with companionable silence. It's good to be with Zephy, and lovely to see Jill, Zephy's friend from Boston, again.
In fact, it's been a lovely and novel few days all around. On Thursday, I came up by bus from Cork and met Zephy and Jill at the Dublin bus station. Both had flown in overnight on different flights, and both were pretty dead on their feet. I sent Jill off to her brother's house, while Zephy and I caught a train to our hotel in Maynooth.
If I were to live anywhere in the Dublin metro area, it would be Maynooth. A straight 30 minute train ride into Dublin, Maynooth (pronounced M'nooth) is home to about 12,000 people. It's a university town, centered around Maynooth University, which is part of the National University of Ireland and home to St. Patrick's College, Ireland's main Roman Catholic seminary.
Zephy and I are not sure what to expect when we get off the train in Maynooth and walk the fifteen minutes into town. I booked our room on booking.com, and all I know is that we're on the university campus, and that the price was right for the height of the August tourist season.
Maynooth University is, quite simply, stunning.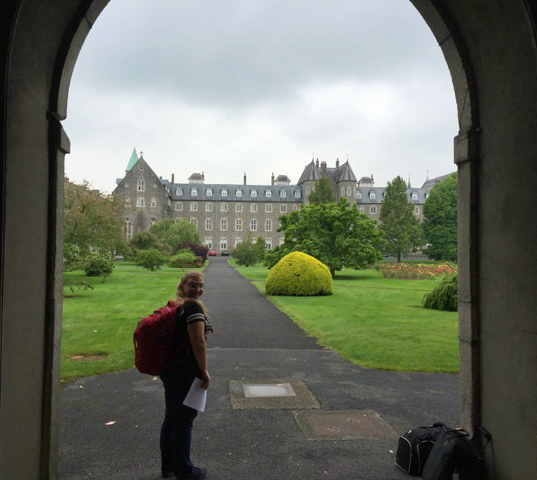 Photo credit: James McKanna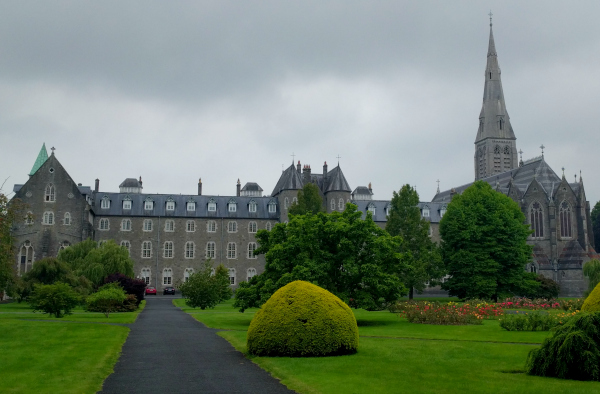 Early one morning we catch the light on the ivy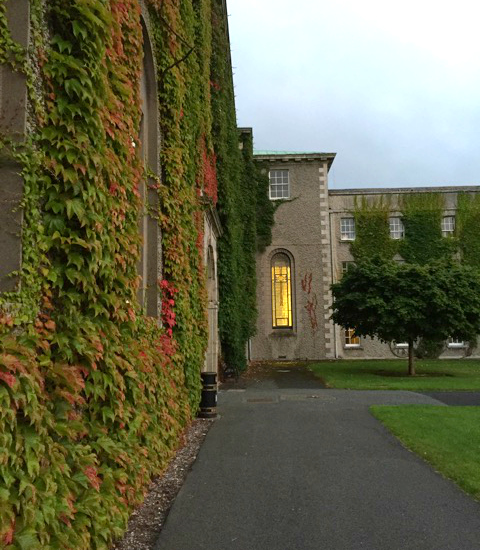 Photo credit: James McKanna
And late one evening we're treated to a glorious sunset.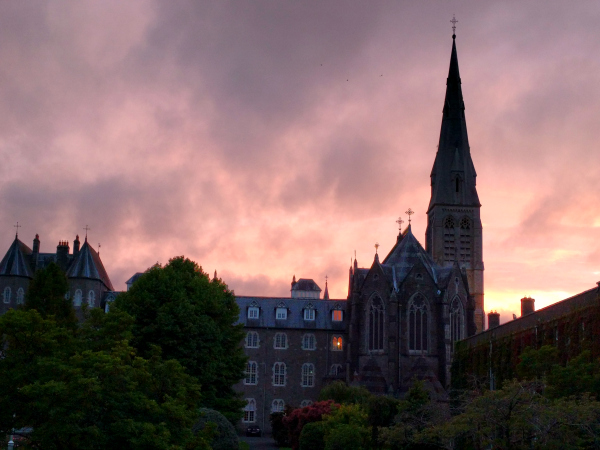 We're on the south side of campus, which is the older part that houses St. Patrick's College. Founded in 1795, St. Patrick's became a recognized college of the National University of Ireland in 1910. However, the university didn't begin admitting lay students until 1966 (!), and in 2014 it rebranded as Maynooth University.
Given the extremely affordable price, I am expecting something like a college dorm room. Instead, our room is three star hotel classy. The ceilings are incredibly high, giving the whole room a feeling of light and space. There's a fireplace, a desk, two comfortable sitting chairs, a wardrobe, and our own bathroom.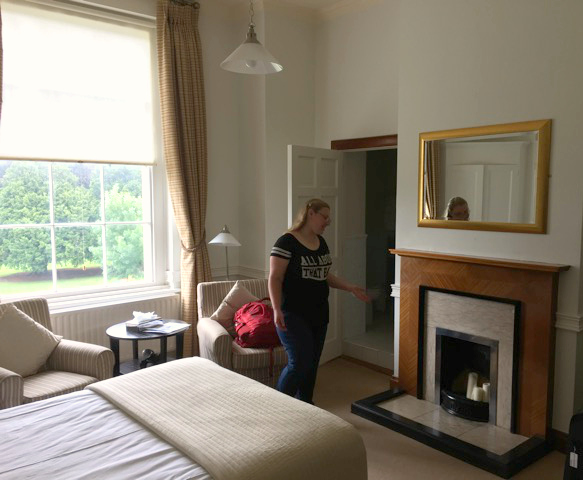 Photo credit: James McKanna
The view from our floor to ceiling window looks over the entrance drive and the old medieval castle and church. This level of luxury is totally unexpected, and it sets the tone for our entire weekend in Dublin.
Zephy takes a nap while I head to the local grocery store to stock up on sandwich fixings. I also pick up a few specialty popcorn flavors: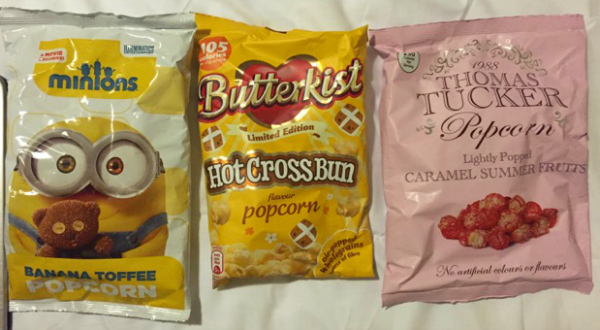 I buy them because Zephy loves novelty, and Ireland's grocery stores are full of chip and popcorn flavors you'd be hard-pressed to find in the US. And I buy them because I'm feeling light and happy and frivolous.
(For the record: thumbs up on the summer fruits and hot cross buns, thumbs down on the banana toffee.)
After some work meetings and an early dinner of tuna sandwiches, we head back into Dublin to see Billy Elliot at the Bord Gáis Energy Theatre.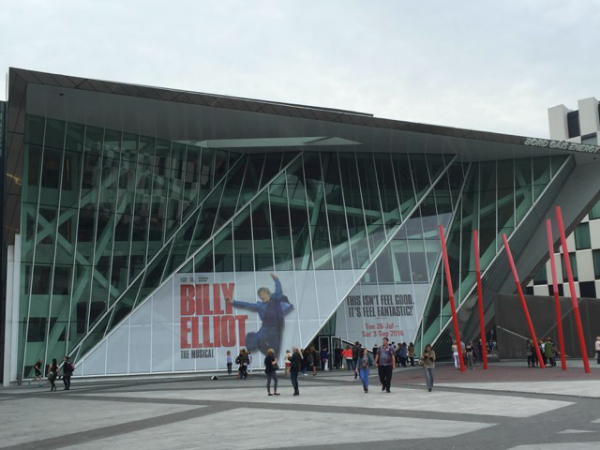 Photo credit: James McKanna
We've seen Billy Elliot once before, in Portland a few years ago. But seeing it here in Ireland is a totally different experience. Even though the story is set in northern England, it could so easily be set here in Ireland. The audience knows it, too – there's a feeling of immediacy to this performance, of skating close to issues that are still real and deep today.
– –
The next morning dawns sunny and clear, tempting us out of our lovely room and towards lunch at a bistro just down the road. It's the sort of morning I'd normally associate with springtime: sunny and still one minute, partly cloudy and breezy the next.
We have a couple of hours before work calls us both back to the room, and the gates of Geraldine Castle are open and inviting.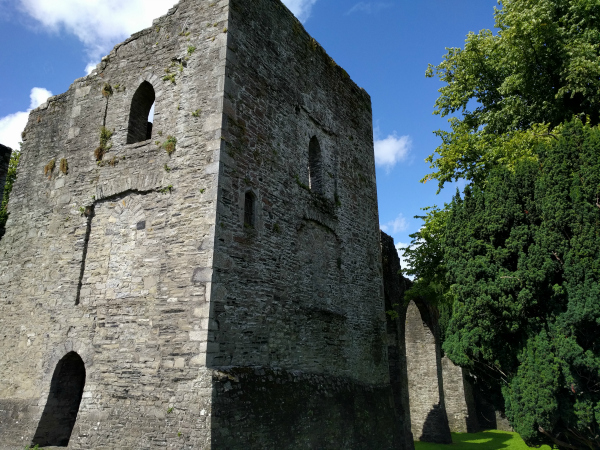 A plaque inside the gatehouse reads "This 13th century keep, which replaced the castle erected by Maurice Fitzgerald in 1176, was for many years the principle residence of the Kildare branch of the Geraldines, one of whom, "Silken" Thomas FitzGerald, fortified it against the English in 1534. The castle was captured and dismantled by the Confederate Army in 1647."
The name "Silken Thomas" brings up a memory from the Irish history book I read a couple of years back. Thomas FitzGerald was called "silken" because he wore fine clothes made of silk. He revolted against King Henry VIII, and tried to get the other Irish lords to revolt with him. Some did, but many did not. He was executed along with five of his uncles in 1537.
A thrill runs through me as I realize I'm standing inside the grounds of Silken Thomas' main castle. Geraldine Castle was his principle seat, and from here he organized his rebellion. If the castle garrison hadn't been betrayed from the inside while Silken Thomas was away on a supply mission, who knows how long the rebellion might have lasted?
A diorama inside the keep lays out just how impressive this castle would have appeared in 1535: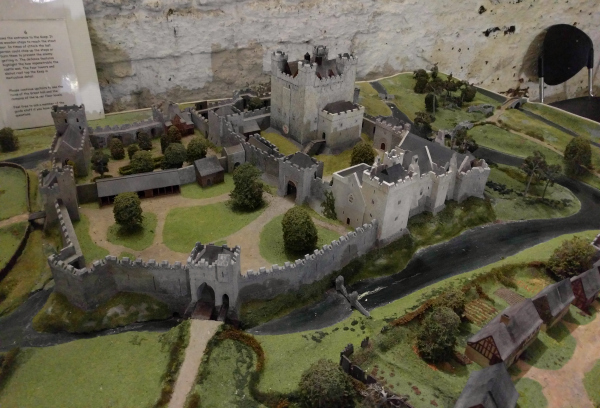 Today everything beyond the inner wall is gone, swallowed up by the changing needs of Maynooth itself. Many of the buildings surrounding the inner court are also gone, leaving tantalizing ruins of their former glory behind.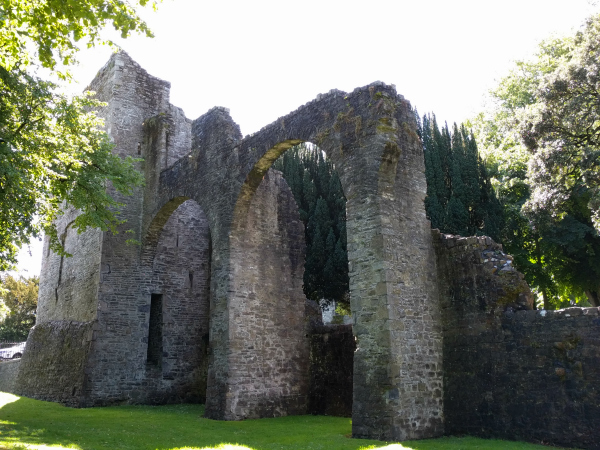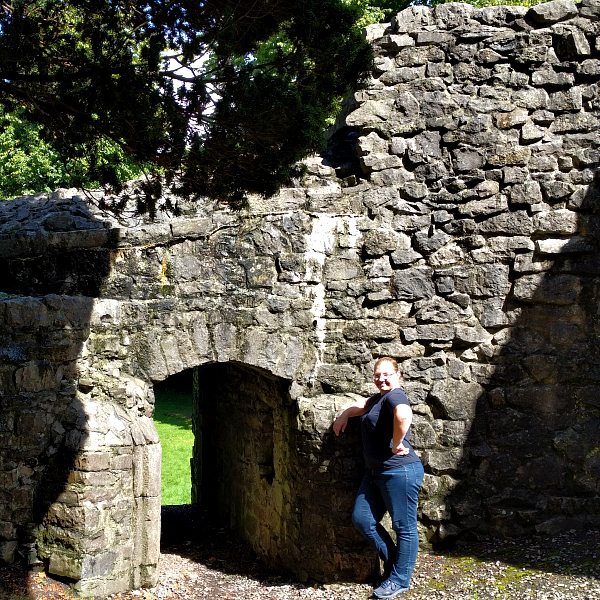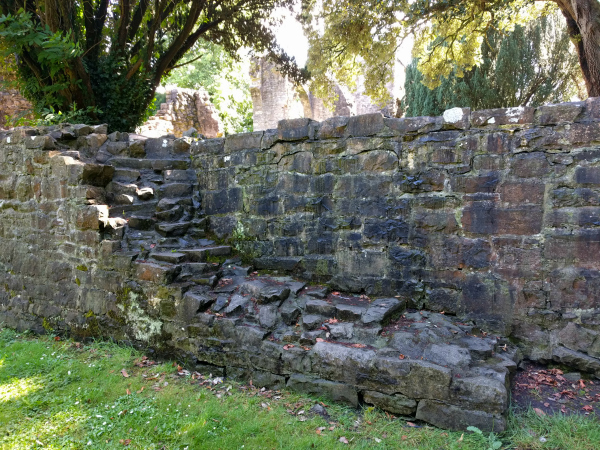 The keep is still mostly intact, although the entrance shown in the diorama is today a simple set of marble steps up to an open doorway.
Standing inside the keep, it feels warm, enclosed, and safe.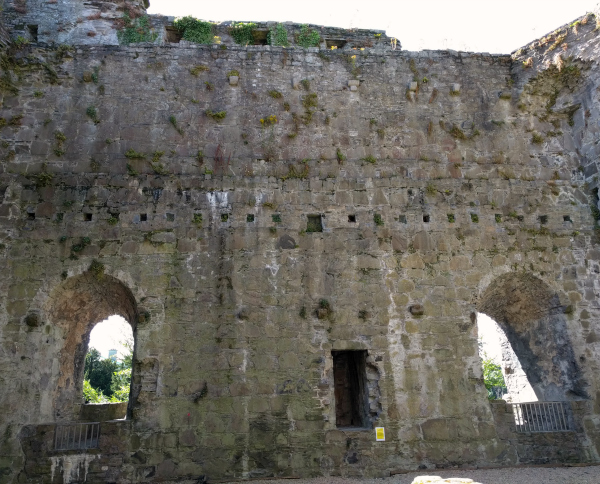 With a roof overhead, smoky fires, and people everywhere, I imagine it would have felt very different. It's definitely a far cry from the elegant and comfortable manor houses that dot most of Ireland.
There's a small museum in the keep's basement, which is free and incredibly detailed. In panel after panel, the history of the FitzGerald family and Geraldine Castle are brought to life. Many of the details about medieval life and Irish history are familiar to me, but there are a few oddities: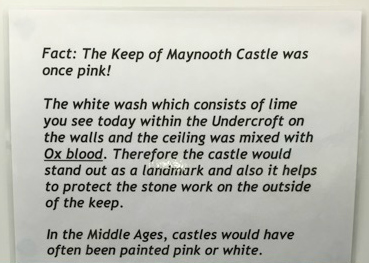 Photo credit: James McKanna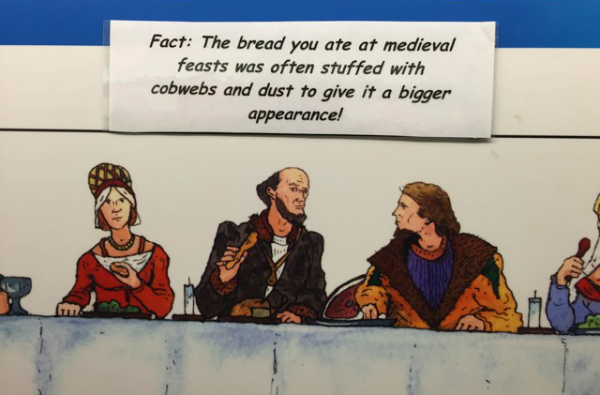 Photo credit: James McKanna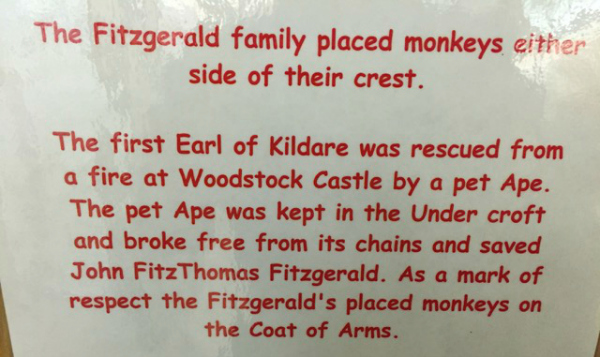 Photo credit: James McKanna
It's a glorious afternoon when we leave Geraldine Castle. It feels criminal to waste the sunshine, but work calls us both back to the room. We feel slightly better when, two hours later, the weather turns and fat raindrops begin sliding down our window. It eases up at dusk, giving us a chance to slip out and wander the streets of Maynooth. We go to bed hoping for sunny weather tomorrow: we have big plans to see the Book of Kells in the morning, and head to Glendalough in the afternoon.
– –
Unfortunately, we wake up to rain on Saturday morning. And not just the usual gentle Irish rain – it's raining hard enough to turn umbrellas inside out and flood the street gutters. We set out for Dublin anyway, hoping the weather will change as it so often does.
It doesn't change during the train ride into town. In fact, it may be raining even harder in Dublin. We have two hours before the Glendalough bus leaves. Plenty of time to explore Trinity College
And experience the Book of Kells.
I have been to see the Book of Kells once before, 2 years ago with my friend Mary. It is Ireland's National Treasure, and the most iconic illustrated gospel ever made. I'm looking forward to Zephy's reaction when he sees it for the first time.
The exhibit is exactly as I remember it: a series of two galleries that describe the art of making illustrated manuscripts in medieval times. The Book of Kells dates from around 800 AD, as do several other important illustrated gospels from around the same time.
The exhibit does a great job of helping you understand exactly how the books were made: how many calf skins were required to make the vellum pages, the various minerals that go into making the different pigments, and the ways in which mistakes were corrected or annotated on the pages.
At the end of the second gallery, we go up three steps and into a darkened room. A waist-high black table dominates the room, easily five or six feet square. Covered in glass, the table is split into four quadrants: two for the Book of Kells, and two for other less famous illuminated manuscripts in the same style.
Zephy and I join the dozen or so people crowded around the table. Since 1953, the Book of Kells has been bound in 4 volumes. One volume is always open to a page of text, and one opened to an illustration.
I spend a long time gazing at the illustrated page. I cannot remember which page it was, but it hardly matters. The intricacy and vibrant colors are breathtaking, even more so as the book is over 1200 years old. I try to imagine myself as one of its four authors, creating these elaborate folio pages or writing neat lines of text in beautiful lettering.
Next to me, Zephy suggests that perhaps we've taken enough time. I understand his desire not to be rude and hog the view. It's just how I felt the first time I was here. This time, though, I'm determined to look as long as I want. There's plenty of movement around me, and plenty of time to take in this wonderful work of art.
Finally, I manage to tear myself away from the illustrated page. Nearby on the wall, they've projected an image of the Chi Ro page. It's probably the most famous page in the book – it's certainly one of the most elaborate.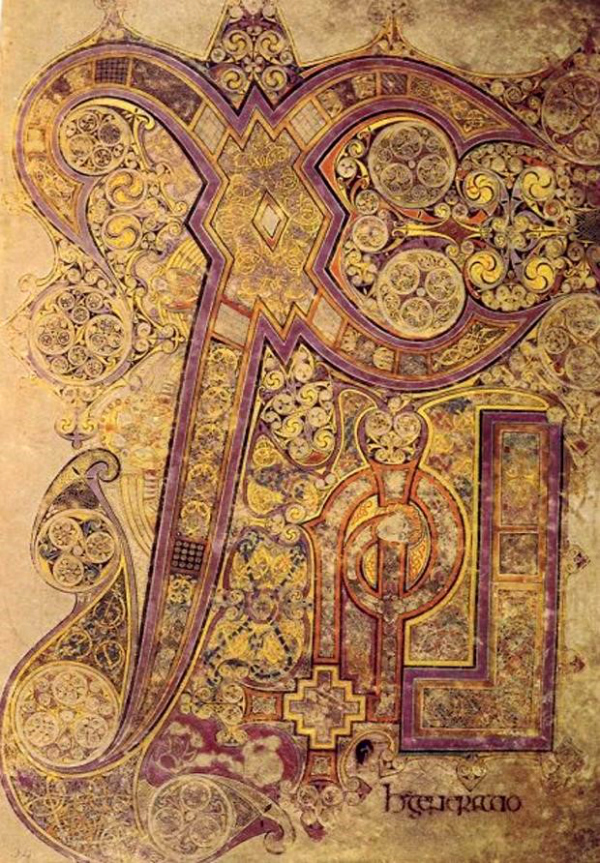 Photo Credit: The Independent
Even blown up to many times its original size, elements of the drawing remain smaller than my pinkie finger.
Pictures of the Book of Kells are not allowed, but if you're curious you can see all four gospels online at the Trinity College Library's Digital Collections Repository.
Zephy and I are quiet and contemplative as we take one last look at the Book of Kells. I'm also excited: I know what awaits us at the top of the stairs leading out of this room, and I'm looking forward to Zephy's reaction.
I am not disappointed.
As we reach the top of the stairs and turn right, his jaw drops and his eyes grow wide. He looks at me, then back through the doorway. Like me, he's already drawing his phone out of his pocket to capture the sight before us.
This is the Long Room of the Old Library at Trinity College.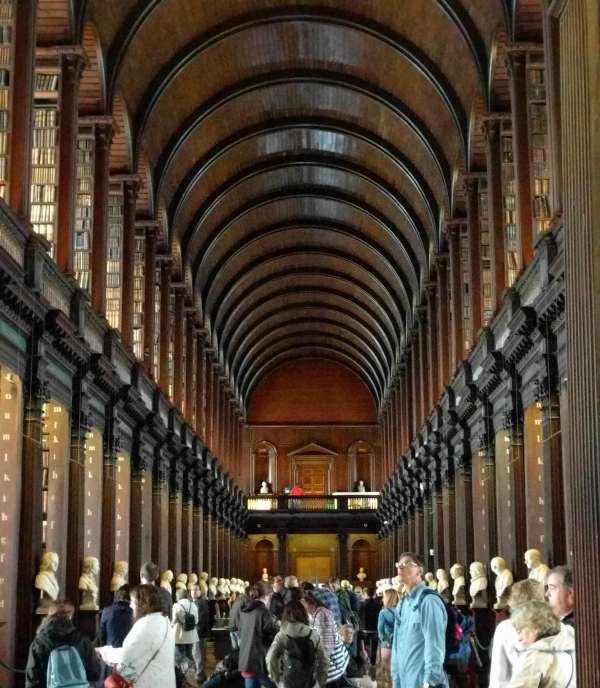 The Long Room houses 200,000 of the library's oldest books in oak bookcases. It's filled with the smells of old paper and wood, and the creak of the oak floor under many feet.
Aisles of books fan off from the central hall, each with its own marble sculpture to lend an aura of elegance. There's a window at the end of each aisle, allowing natural light to brighten up all the dark wood shelves and book covers.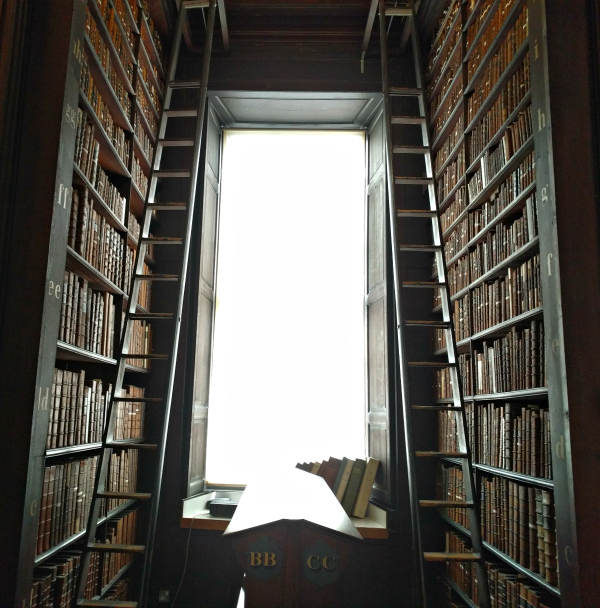 In one corner is a Victorian spiral staircase, which appears to be the only way to access the second floor.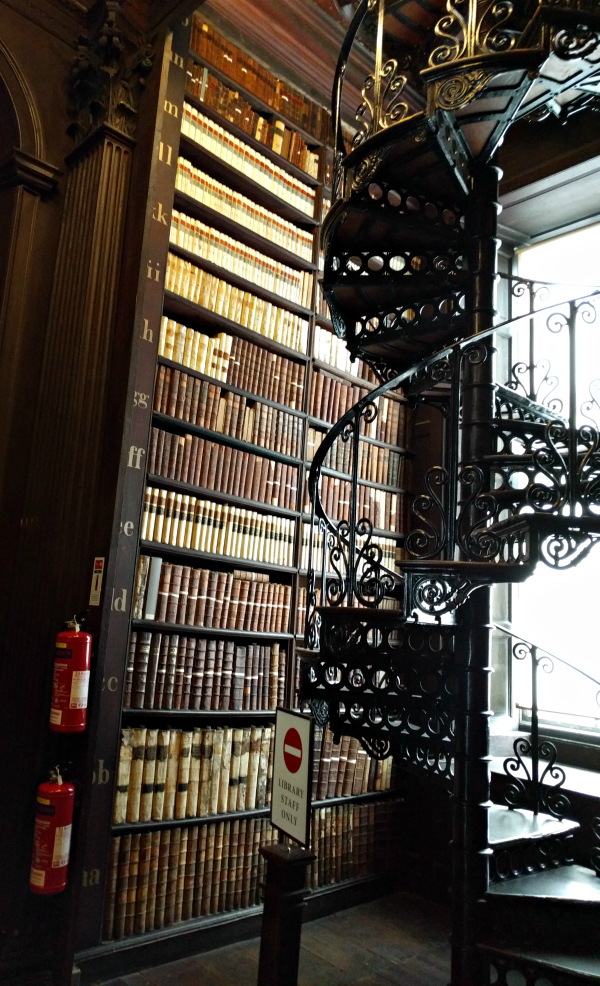 There must be ladders hidden somewhere in the building, because there's no walkway connecting the 2nd floor aisles.
When I was last here, the tables in the center of the Long Room were dedicated to children's books throughout history. This time it's a more expected display of famous authors, their books open to key pages, some of them hand-written.
I wander slowly down the central aisle, glancing at the books and into the stacks. I'm mostly just enjoying the atmosphere of being in a library that looks and smells and feels the way a library ought to feel.
Zephy and I met near the stairs leading down to the gift shop, and I can tell that he's enjoyed this portion of the exhibit as much as seeing the Book of Kells itself.
When we exit the gift shop, the rain seems to be letting up. It may not be the perfect sunny day we had yesterday, but we decide to take our chances at Glendalough, and head towards the pick-up point at St. Stephen's Green.
St. Stephen's Green is a park that takes up an entire block in the heart of old Dublin.  As we cross a footbridge over a stream, the sight of ducks swimming below us reminds me of a story that I heard a couple of years ago. During the fighting between the Irish and the English, St. Stephen's Green was a no-man's land. But every day at noon, they would pause for one hour to allow the local duck keeper to feed the ducks. It was the only agreement the two sides were able to work out until the fighting ceased altogether.
After a quick stop at an ATM, we get to the Glendalough bus stop only to find that the bus is full. Which is a real shame, as the sun is starting to peak through the clouds. I have been itching to get back to Glendalough and spend more time there, and I know Zephy would have enjoyed it as much as I did.
Still, there's nothing to be done except go on to Plan B. We now have the entire afternoon ahead of us, and I know exactly where to spend it: at the National Museum of Archaeology, ogling Celtic gold, Viking weapons, and bog bodies.
Up next: Dublin Revisited: Celtic Gold, Bog Bodies, and the Chester Beatty Library