August 21 – 27, 2016
We arrive in Sligo around dinner time on a grey Sunday evening. Jill, Zephy, and I are headed for a small cottage we've rented just 15 minutes' drive outside Sligo. It's a quick walk from the train station to the grocery store, where I insist we stock up on groceries before catching a taxi out to our cottage.
En route to the grocery store, we pass this billboard for KFC: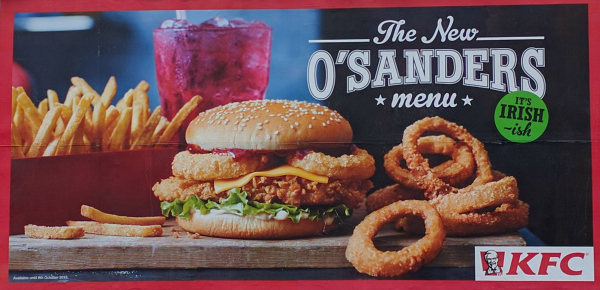 Our cottage is in the hamlet of Ballygawly. It's off the side of a country road in the middle of nowhere: quiet, peaceful, isolated. The cottage is quite large: a kitchen opening onto a sitting room, a large bedroom, and a bathroom. There's a roofed patio in back, and two kitties ready for loving.
Piddles is quite friendly, and takes to us right away.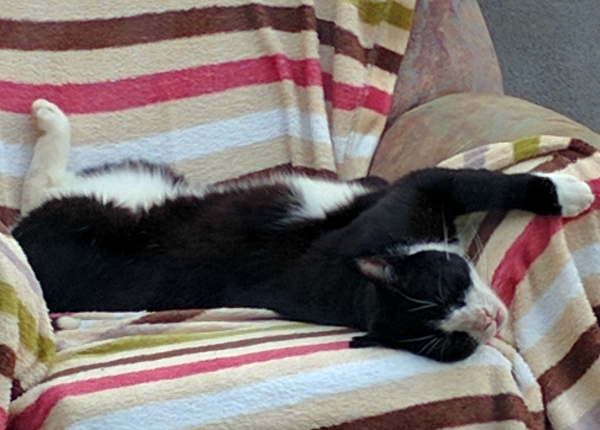 Cody, on the other hand, is a real spook. She doesn't mind being adored on her chair on the back patio, but it takes several days for her to work up the courage to crawl into my lap.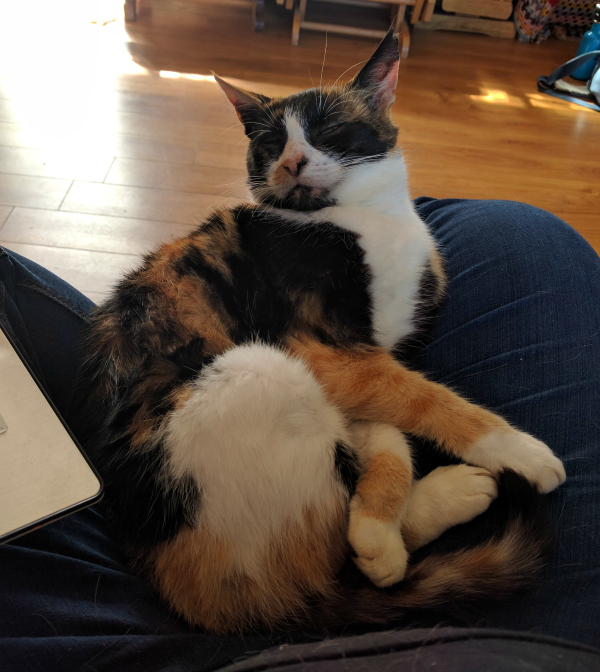 There are no screens on the windows, so they come and go as they please during the day.
We've come to Sligo for a specific purpose: Zephy and Jill are both big Boda Borg fans. They've been to the Boston Boda Borg numerous times, and introduced me to Boda Borg last Thanksgiving. So naturally, when we discovered that the one and only Boda Borg in Ireland is in Lough Key Forest and Activity Park, we had to come.
For two days, we immerse ourselves in the world of Boda Borg: crawling through tunnels, balancing on planks, swinging through the air, and shimmying around on the floor. Some of the quests are mental, some are physical (hence the crawling, swinging, and balancing), and some are a combination of both.
There are 15 quests in all, and our goal is to finish them all in two days. We come pretty close: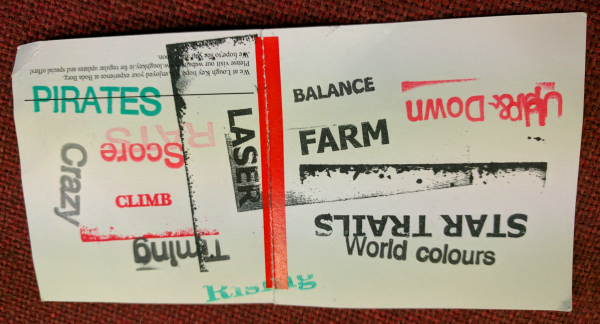 We finish 13 of the quests, and get to the final room on the 14th. The 15th quest is the real killer – we try many times, but cannot get past the first room.
We arrange for a taxi to drive us to and from Lough Key. Jill and Zephy decide that since I'm the most sociable of the group, I get the honor of sitting in the front seat and making conversation with Padraig, our driver. It's not difficult – Padraig is a laid back guy, and tells us quite a bit about Lough Key Park and the upcoming foot race up nearby Knocknarea Mountain.
He also has quite a low opinion of Dublin – it seems that Sligo, like the rest of Ireland, resents the fact that Dublin is the focus of a vast majority of Ireland's development and infrastructure resources. Nearly a quarter of Ireland's population live in the Dublin area, so it's not surprising that much of the national focus is on Dublin. But it's clear that Padraig feels the government could be doing more to help the rest of Ireland.
Padraig also tells us about Sligo's many great music festivals, including the fact that Sligo hosted the Fleadh Cheoil in 2014 and 2015. The Fleadh Cheoil is an Irish music and dance festival, as well as a competition. One has to qualify for the contest: in Ireland, in England, and in North America. Over 400,000 people from around the world came to Sligo for the festival, which is pretty crazy when you realize that Sligo's population is around 20,000.
At the end of our second Boda Borg day, we're sore, bruised, and flushed with our own success. We drop Jill off at the train station so she can head back to Dublin, and Zephy and I happily settle into the cottage for a few days of nothing but work and enjoying each other's company.
Aside from some finicky internet issues, our days at the cottage are quiet and restorative. We see no one except Sandy, our hostess, who stops by on Wednesday to check on us and graciously drives Zephy into town to pick up more groceries. We work, we read, we entertain the cats, we make dinner, and we go for walks in the evening.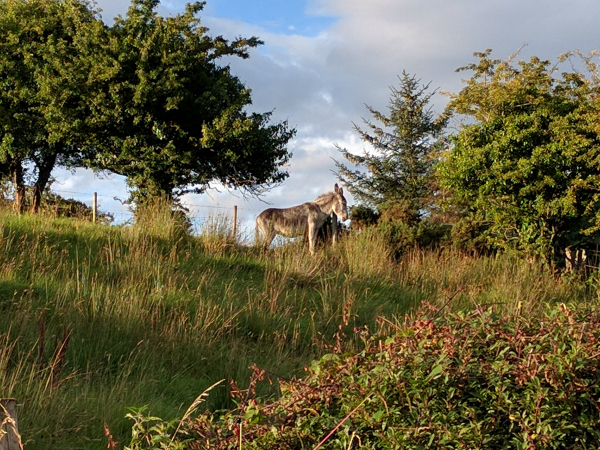 Far too soon, it's Saturday morning and we're saying goodbye to our peaceful country cottage. We call on Padraig one last time to drive us in to Sligo. Tony has arranged for us to store our luggage at a hotel owned by his cousin. He'll be by later to pick us up and drive us back to Belturbet. For now, though, we have a couple of hours to explore.
With no particular destination in mind, we wander through the streets of Sligo. We pass Sligo Abbey, a Dominican Friary that is Sligo's only medieval building,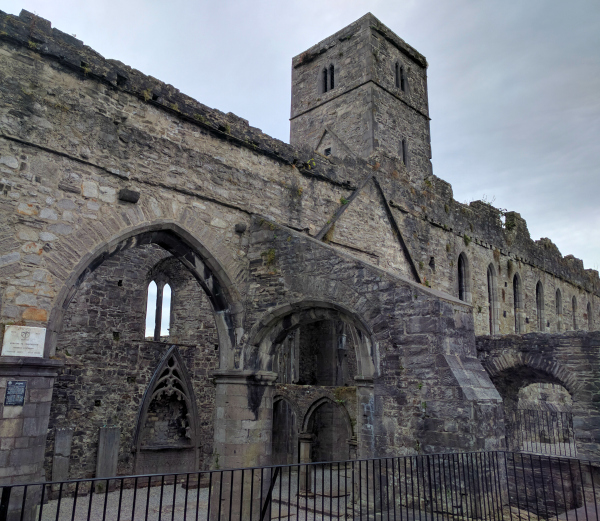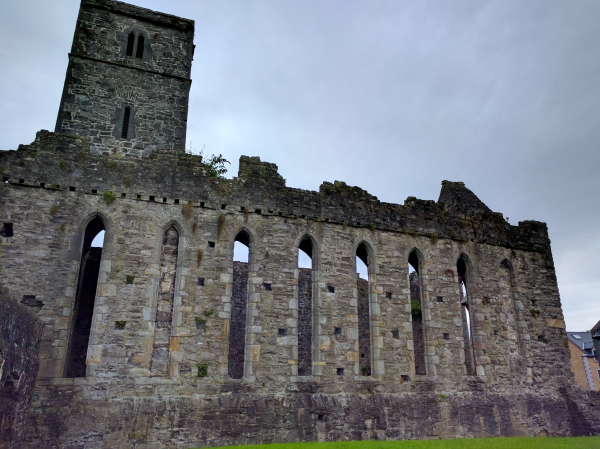 And the Sligo Town Hall, built in the 1800s.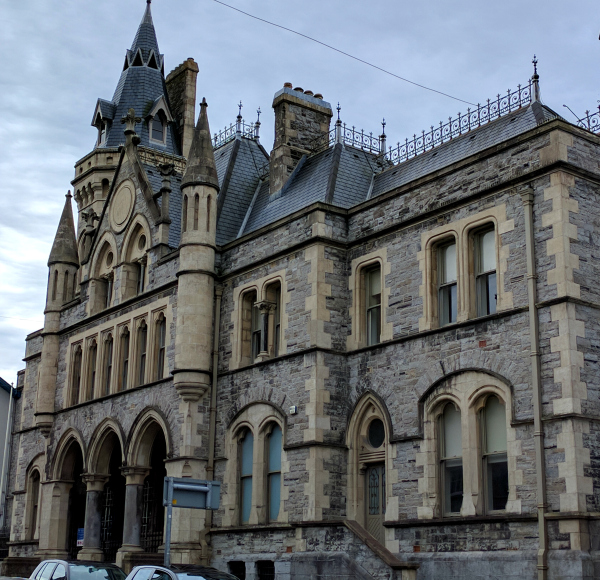 We wander into an art gallery with some lovely earrings, and a specialty food shop full of interesting jams. We spend some time in Liber book shop, sifting through popular novels and historical ones. I find a delightful memoir called Woodbrook, which sounds like the sort of book that brings a place and a time alive through the eyes an author who loved both.
Across the street is a chocolate bouquet shop, which I pop into because who can resist fancy chocolate? I chat with the store owner for several minutes. I'm fascinated by the idea of sending chocolate bouquets instead of flowers, and make a note to remember this idea for later gift-giving.
One of the many things that Sligo is famous for is being the heart of Yeats' country. When we round the corner from the bookshop, we're delighted to find that the Yeats museum is both open and free. It's a house in the row of houses, with the first floor given over to two exhibit rooms on the right, and a café on the left.
We wander slowly through the exhibits, which include some of Yeats' original hand-written poetry as well as photographs of Yeats and other individuals connected to his life and his work.
I'm amused by the computer-printed "Yeats and Me Selfie" sign taped to the pedestal in the entryway.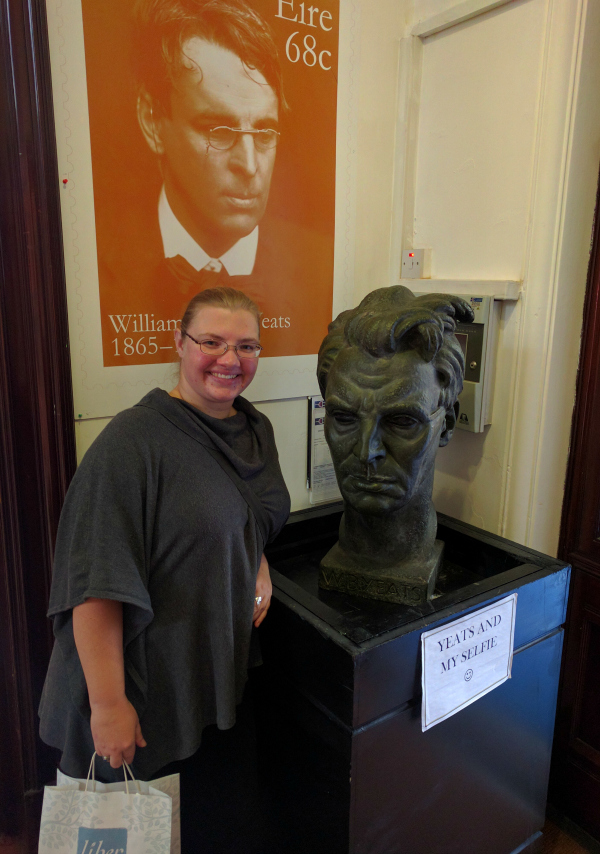 A few houses down from the Yeats Museum, the road crosses the river and turns left to follow its bank. A statue of Yeats watches over this corner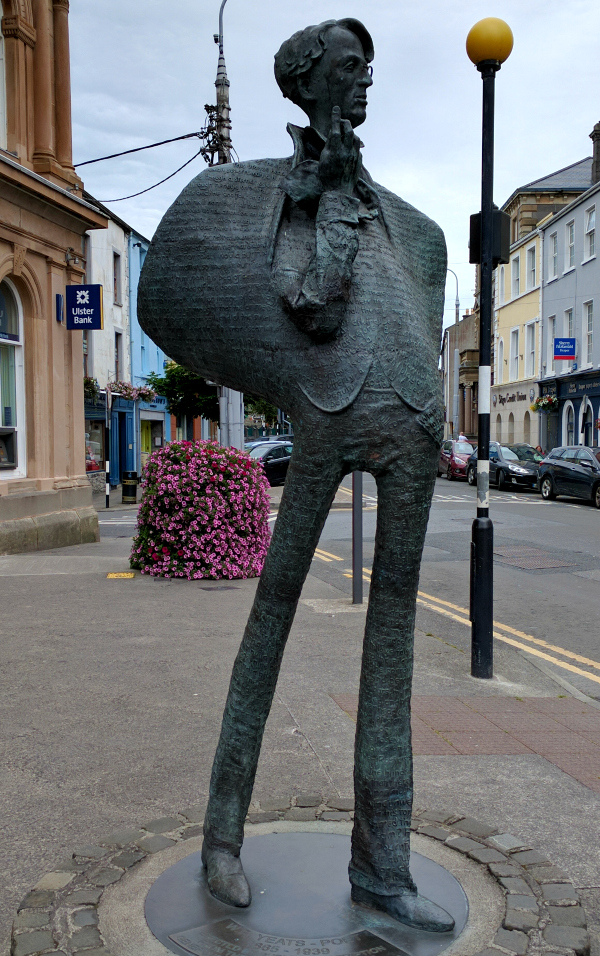 The plaque at its base reads:
W.B. Yeats – Poet
1986 – 1939
Erected by public subscription from the people of Sligo
and generous support of the Ulster Bank 1990
From here, it's a twenty minute walk back to the hotel. Tony is running a bit late, so we settle down to read our new books in the lobby until he arrives. A quick cup of tea and a brief chat later, we're climbing into Tony's car for the drive back to Belturbet.
Our first stop is a detour to see Yeats' grave in Drumcliff Cemetery. It's outside Sligo, at a church whose parking lot is three times the size of the small country church and its graveyard.
Yeats' grave is directly in front of the main entrance, a plain concrete rectangle with plain grey gravel.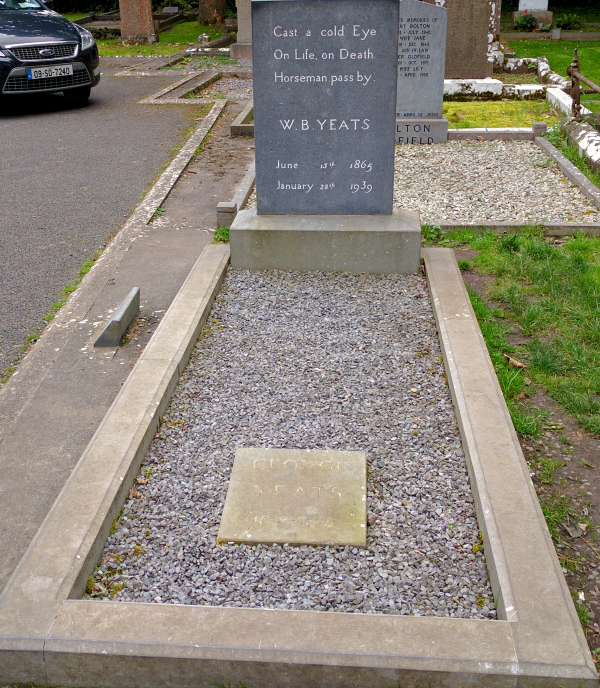 His headstone is also quite plain.
In contrast to Yeats' grave, the rest of the graveyard is quite pretty. It's a bit soggy due to the recent rains, but I brave the mud to get as close to the stunning Benbulben Mountains as I can.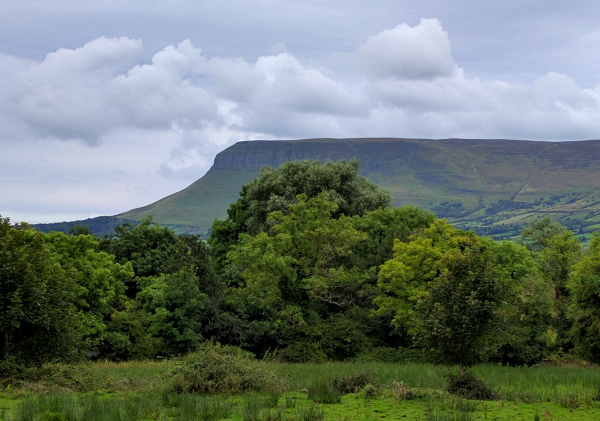 They dominate the horizon, drawing the eyes up to the heavens. No wonder Yeats wanted to be close by.
From Drumcliff Cemetery, our next stop is the Glencar Waterfall.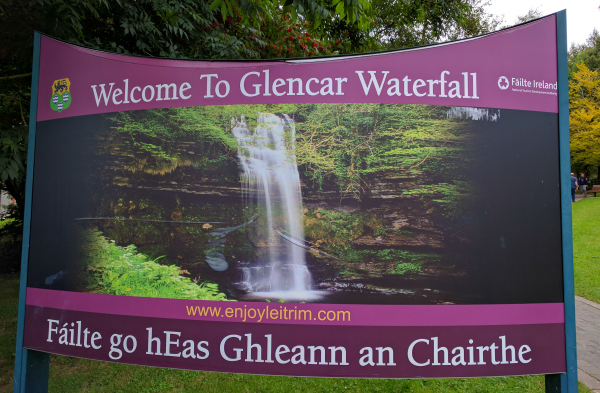 Just past the welcome sign, we stop for a picturesque view over the lake: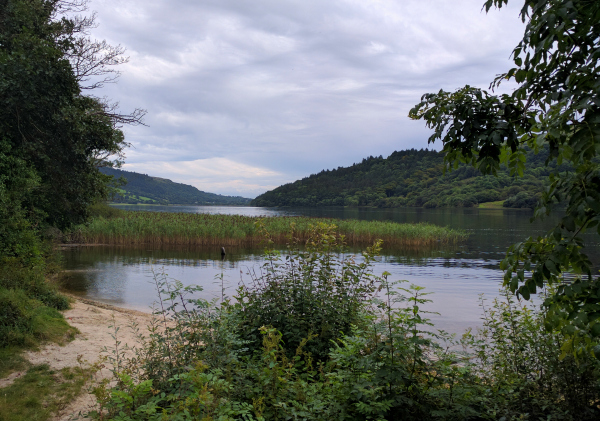 And to admire the orange flowers along its banks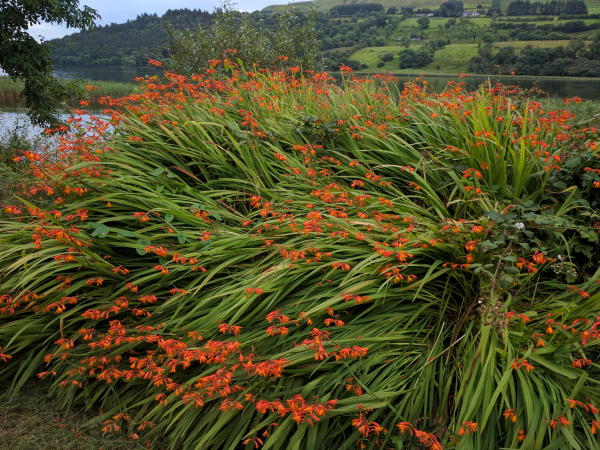 We park in a small lot across from the visitor's center. Tony is off to get a cup of tea, but Zephy and I follow the stream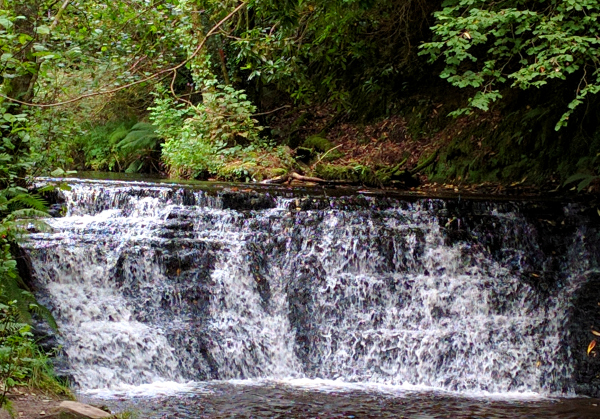 up to the waterfall.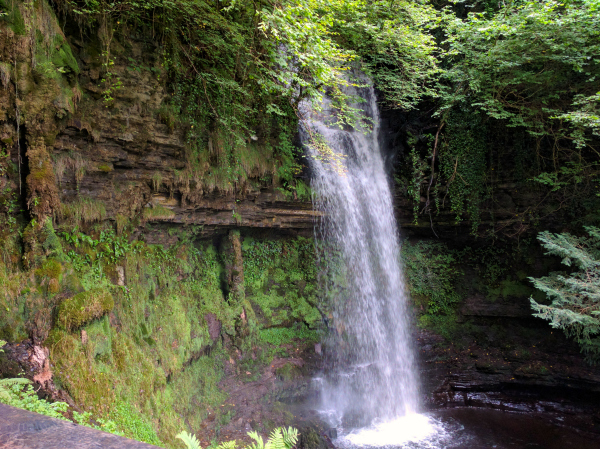 I stand for a long time listening to the sound of the water crashing into the pool below. There's something hypnotic about waterfalls: they're constantly in motion, yet the shape of the falls rarely changes. I like the feeling of motion and the sound of the water.
We decline to join Tony for tea, and hop into the car for a series of quick "places of interest" along the road. We stop to admire the locally-famous Rainbow Ballroom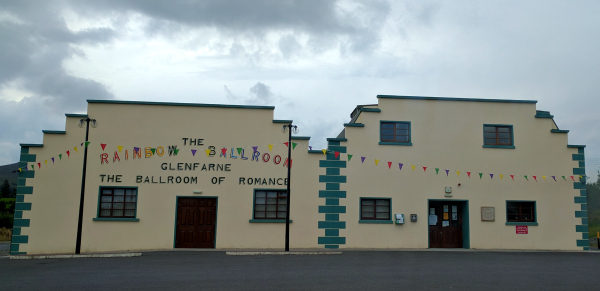 And two historical markers.
One of our most intriguing stops is in Blacklion, County Cavan. Irish Celebrity Chef Neven Maguire runs the MacNean House and Restaurant. The wait list alone is 6 – 9 months to get a reservation, and dinner costs 85€ a person.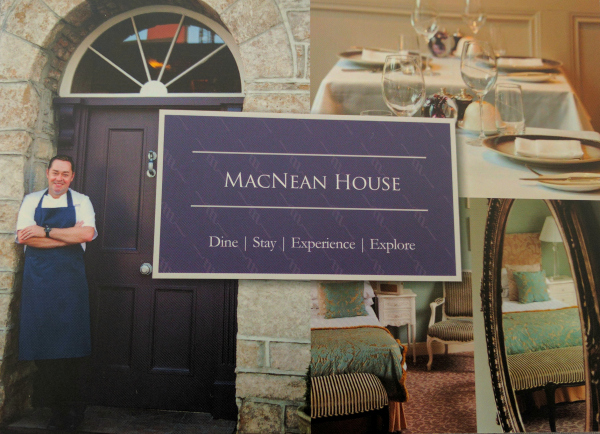 By chance, Tony has been to dinner here the previous evening and insists that we at least step into the foyer and have a look at the most expensive – and exclusive – restaurant in the north of Ireland.
The murmur of voices and chink of cutlery on plates emanates from the restaurant to our left. The seating area to the right is unoccupied, giving me a chance to sneak a quick picture.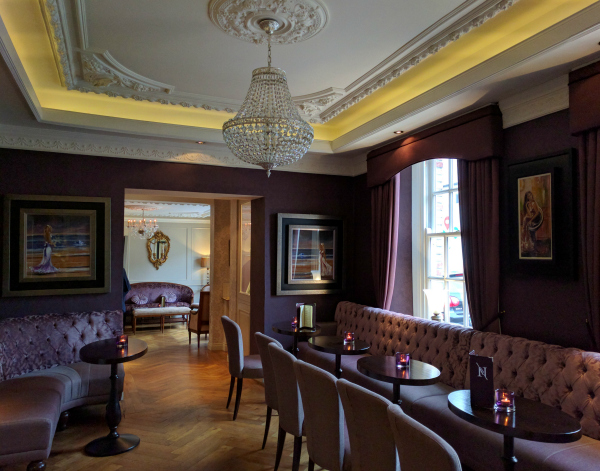 A waiter notices us standing in the hallway and graciously asks if he can help us. Zephy and I are a bit embarrassed, but the waiter is clearly used to visitors and smiles when I explain that our host insisted we step inside for a quick look. The waiter hands us a silver envelope with a recipe card, a brochure for the restaurant, and today's menu: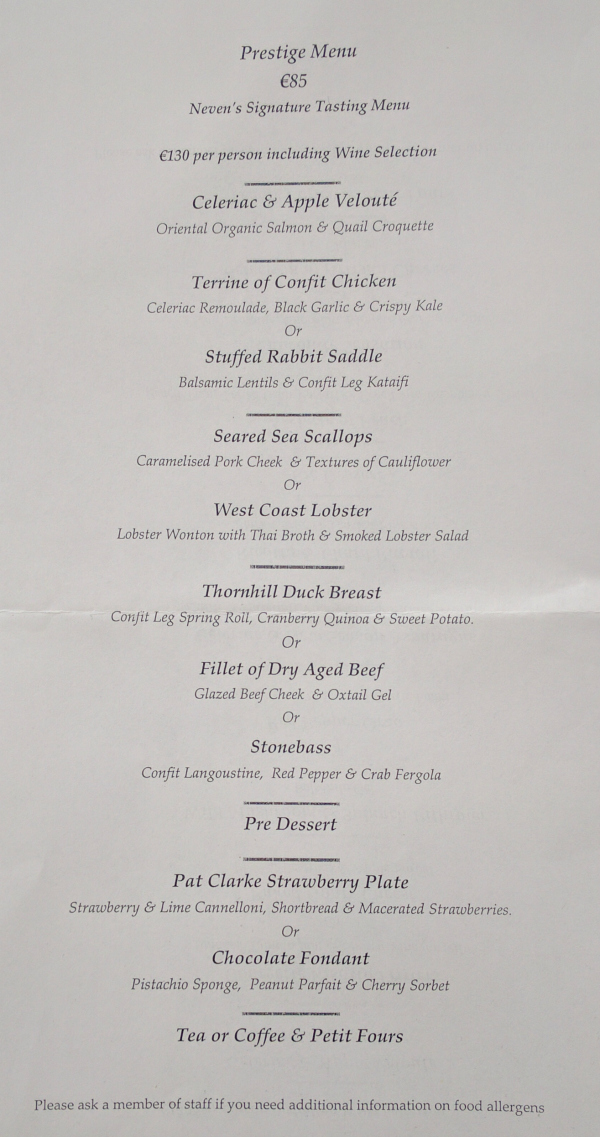 We thank the waiter and hustle back out to the car.
We're not far from Belturbet, but Tony is eager to show us the Marble Arches caves and Florence Court.
The Marble Arches Caves are the most exciting feature of the UNESCO Marble Arches Caves Global Geopark. The countryside is quite striking – it reminds me a bit of Arizona, with its scrubby ravines and folded landscape. This late in the day, the visitor center is just closing. I haven't been out here yet because it's a long way from a public bus – you'd need a car to get out to these gorgeous caves.
With the Marble Arches Caves behind us, we're off to Florence Court. It's well past closing time, but the gates are still open. With the air of sneaking in just under a deadline, we drive down the main road and hop out for a few quick pictures.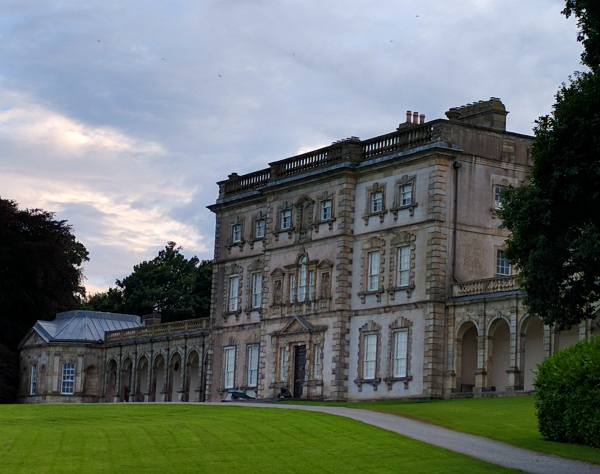 Florence Court is a lovely Palladian mansion set in a country estate. Walking paths criss-cross the estate, which is home to the original Irish Yew (among other natural delights).
Much like the caves, Florence Court is in the middle of nowhere, far off any bus lines and too far to walk (unless you wanted to walk a couple of hours). It's been on my to-do list since arriving (as have the caves) but I'm running out of steam this late in the summer. I'm glad for the opportunity to see it, even if only in passing.
Florence Court is the last cultural stop on our road trip. We stop one final time for groceries at a local Gala, and finally pull into Belturbet just before 8:00 pm.
Zephy and I feel as if we've been in motion almost all day. It's a good kind of motion, and we saw many interesting and beautiful things our road trip. Still, it's a real pleasure to settle into the fancy townhouse Tony graciously upgraded us to, and relax for the evening.
Before August rolled around, I'd envisioned spending quite a bit more time playing tourist in Sligo. There's plenty to see, including Ireland's largest concentration of prehistoric sites. But I wouldn't change a thing about this week: the down time in our country cottage was exactly what we needed, and our road trip today certainly gave us a local flavor of this part of Ireland.
Up next: Ireland: A Summer in Review